List of Things Dad Wants For Father's Day
Tuesday June 1, 2021 comments Tags: Florida Landscaping, Lakeland irrigation maintenance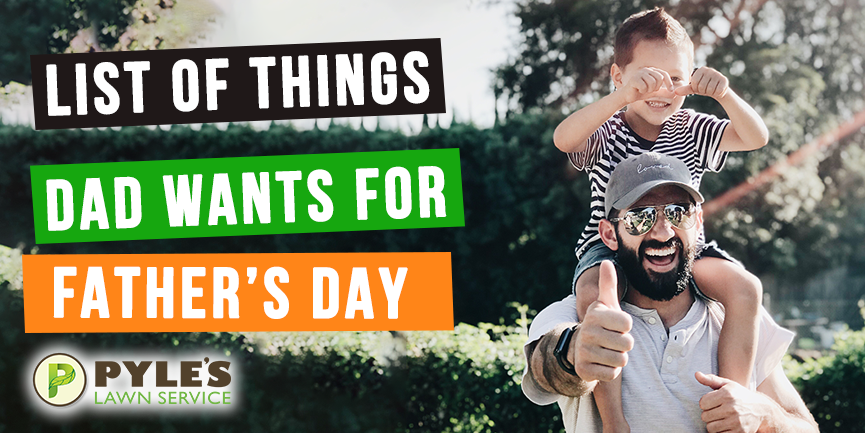 On Father's Day, there are a number of ways to honor your father. It's one thing to pick out the ideal Father's Day present and write a lovely note on his card, but it's also essential to make sure that your father's special day is packed with activities that will draw him even closer to the people he cares about the most: his children. If you ask your father, he'll tell you that quality time is the greatest present you can offer him, which is why we've compiled a list of fun activities to do for Father's Day this year.
Before you start preparing, find out what sort of activity your father anticipates: Is he more interested in an activity-packed day or something more low-key? Then work your way through this list to come up with unique ideas to make Father's Day more memorable for your dad. You're sure to discover something that the entire family will love — particularly dad — from free activities that you can perform from the comfort of your own home to all-day excursions that will take you miles away.
Organize a lawn games competition
Organize an afternoon gathering with cornhole, horseshoes, croquet, and other lawn activities to bring the Olympic spirit to your garden. If your father is competitive, keep score throughout each game and total the points at the end to determine the winner. To prepare your lawn for this anticipated activity, a Lakeland lawn mowing team is more than happy to help you achieve a strong lawn for your games.
Have a picnic in the backyard
Here's a simple way to wow your father on his special day: Pack a picnic basket with sandwiches and a blanket, and go out to your yard for a family picnic. He'll love the sunlight and some outdoor activities, particularly with all of his favorite people around. Having an amazing yard to hold picnics is possible with the help of experts! A reliable Lakeland landscape design can help you through a smart and beautiful landscape design, just in time for the celebration.
Start the grill
Father's Day is best spent with family and great cuisine, so fire up the grill and prepare a wonderful dinner for the whole family. Take advantage of the chance to pick up a few tips from dad or just cheer him on as he serves plate after plate of delicious burgers, grilled vegetables, and more.
Go on a hike
Visit your local hiking and bike trails or go to the closest National Park in your region to enjoy the great outdoors as a family. Allow Dad to pick the route and prepare to snap a lot of family pictures.
Build a campfire
End his Father's Day with a sweet treat: marshmallows roasted over an open fire. Ask everyone in the circle to relate their favorite memory of dad or grandpa while they're enjoying their s'mores. It'll just add to the sweetness of the occasion.
Father's Day comes only once a year, so make it special by giving your dad what he wants for Father's Day! For example, you can take lawn mowing off his honey do list by hiring a professional Lakeland lawn care service like Pyles Lawn Services. Happy Father's Day from our family to yours!
Archives
Subscribe