4 Things to Look For in a Commercial Lawn Maintenance Company
By: dpyle Friday September 27, 2019 comments Tags: commercial lawn maintenance, polk county landscaping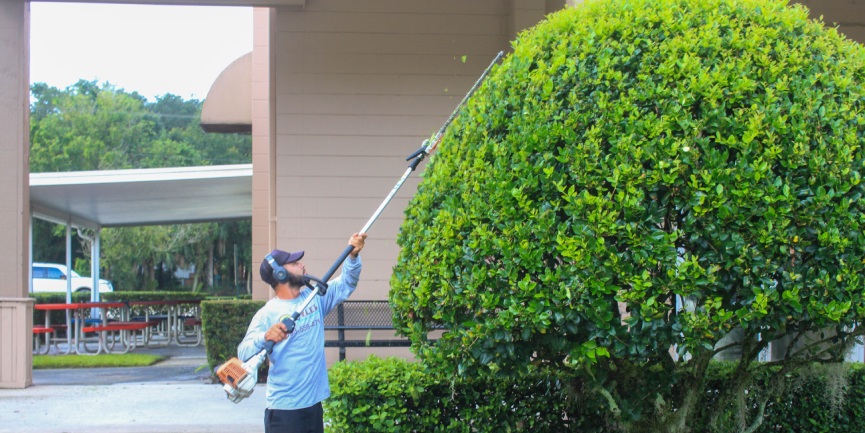 Your business' lawn is your business' face to the world. It needs to look top-notch every time a customer passes by. So it really matters which commercial lawn maintenance company you choose.
As you may have found, not all commercial lawn maintenance companies are created equal. Too many are unreliable, have unprofessional standards, or aren't responsive to you as a client. So here are some things to intentionally look for in a commercial lawn maintenance company:

1. A Reliable Reputation
We hear this from new clients all too often - "Our last lawn maintenance company just stopped showing up." You may have experienced it yourself. Sometimes lawn maintenance companies aren't equipped to handle growth or expansion and end up shutting down. Whatever the reason, an unreliable lawn maintenance company leaves you in the lurch.
So how do you figure out if a company is reliable or not? Look at their customer reviews online - and not just the quality of the reviews but the number of reviews. The more Google, Facebook, or HomeAdvisor reviews a lawn maintenance company has, the more it means their customers want to talk about them. That's usually a good sign! Read over the reviews and see what clients are saying - what's the quality of their work and the consistency of their responsiveness?
If you want to be extra sure a lawn maintenance company will take care of you, you can always ask them for references. When you talk to their references, ask questions like, "How long have you worked with them?" "What's their best quality as a business?" "Are they affordable and reliable?" If you're satisfied with the answers, you'll probably be satisfied with the lawn maintenance the company provides, too.

2. Licensed and Insured
Even though not every lawn maintenance company is licensed and insured, this is a must. Plenty of people pay for lawn maintenance under the table, but it's not the best idea. Without licenses and insurance, both you and the lawn company are unprotected. If a lawn technician gets hurt on the job, you may be liable. If they break or damage your property, they don't have insurance to cover it. With a licensed and insured company, you don't have to worry about those scenarios at all.

3. Professional Equipment Maintenance
You can tell the difference between a professional and an amateur by the way they maintain their equipment. One easy question to help weed out nonprofessionals is, "How often do you sharpen your blades?" As basic as it may seem, blade sharpness is important for getting a clean, professional-looking cut. A professional Lakeland lawn care company will sharpen their blades regularly - as much as every 10 hours of mowing. In order to guarantee the quality and consistency of your lawn maintenance, your lawn company should have high standards of equipment maintenance.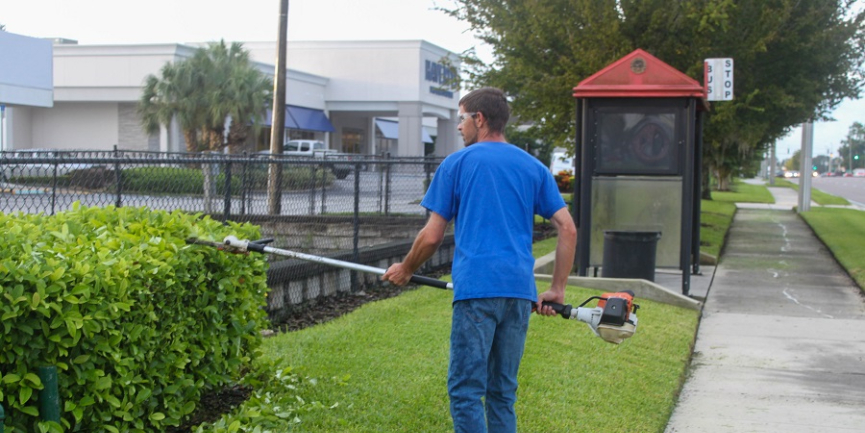 4. Responsive Customer Service
High-quality customer service is a necessity for commercial lawn maintenance. All too often, it's difficult to get quotes from lawn companies, to start or add services with them, and to cut the phone tag to actually talk with them about questions or needs. Local Lakeland landscaping companies who offer online scheduling, respond quickly through email, and are available through social media are a rare breed - but worth the find!
Feel free to ask companies about their systems for scheduling appointments and responding to messages and emails. And look for what other clients say about the company's customer service in online reviews. Part of being reliable is being responsive, so make sure the lawn maintenance company you go with has a high standard.
Your business' lawn is your business' face to the world. It needs to look top-notch every time a customer passes by.
Hiring a company to take care of commercial lawn maintenance for you can be a hassle. But if you find a Lakeland landscaping company with all of these attributes, you'll be able to relax knowing your business is in good hands.
Pyle's Lawn Service has served the Lakeland area for over 20 years and has a strong reputation for integrity and reliability. To read our client reviews and see how we can help you, visit our website!
Archives
Subscribe